The Lunar New Year is a time for celebration, family gatherings, and feasting with loved ones. Different cultures around the world have their own unique traditions and dishes that are enjoyed during this festive holiday.
Here is a compilation of the common foods eaten with some of the best recipes curated around the web.
CHINA
In China, the Lunar New Year is also known as the Spring Festival and is one of the most important holidays of the year. During this time, people often enjoy "lucky foods" as they are thought to bring good fortune in the year ahead. For example, longevity noodles are long threads of noodles that symbolises long life. Fish (鱼 Yú) is homophone with the word "surplus" 余 (yú) and is commonly served during Lunar New Year. Similarly, tangerines in Chinese sounds similar to the word "luck" and orange is synonymous to "wealth".
Try this 20-minute longevity noodles recipe by The Woks of Life: here.
KOREA
In Korea, the Lunar New Year is known as Seollal and is a three-day holiday. One of the most popular dishes during this time is tteokguk (떡국), a soup made with sliced rice cakes. It is traditional to eat a bowl of tteokguk on New Year's Day, as it is believed to bring good luck and add one year to a person's age. Other popular foods during Seollal include japchae, a stir-fried noodle dish, and jeon, a type of Korean pancake.
Try this easy and comforting Tteokguk recipe by Cookerru: here.
VIETNAM
The Lunar New Year is known as Tet in Vietnam and like other cultures, it is a time for family reunions and feasting. Bánh chưng is commonly served during Tet. It is a beautiful parcel of savoury rice cake made with glutinous rice, mung beans, and pork wrapped in banana leaves and tied with bamboo strings (talk about eco wrapping!) Other popular dishes during Tet include nem ran, a fried spring roll, and cha gio, a type of deep-fried spring roll.
Learn how to cook and fold Bánh chưng with YummyVietnam
PHILIPPINES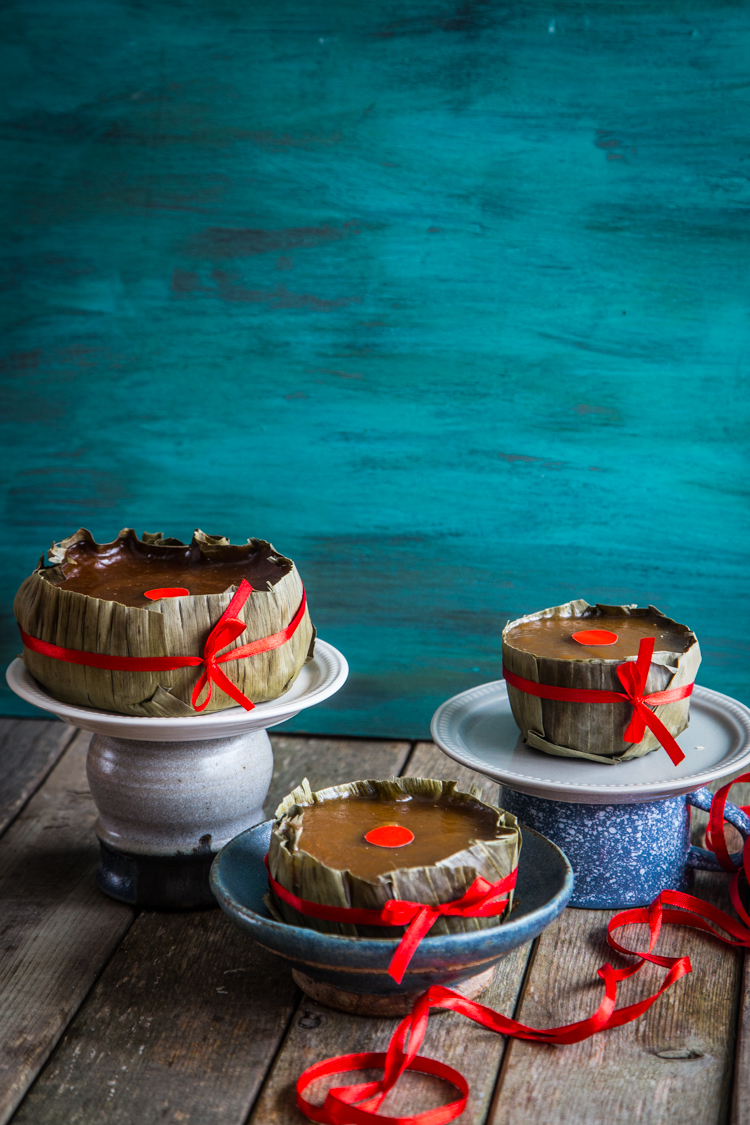 One of the most popular dishes during this time is tikoy, a sweet glutinous rice cake wrapped in banana leaves that is often given as a gift to friends and loved ones. Tikoy is also enjoyed in China (called nian gao) and in Malaysia (called ti kuih - literally translated to sweet cake). There is a variety of ways to enjoy tikoy. You can slice thinly and enjoy as is, stuff into spring roll sheets and deep fried, lightly sear to get a crispy tikoy or use them as stuffing in sweet potato balls.
Try this tikoy recipe and get inspired to use tikoy with What to Cook Today
MALAYSIA / SINGAPORE
During the Lunar New Year, Malaysians and Singaporeans enjoy yusheng (also known as yee sang or lohei), a salad made with raw fish (representing abundance), a colourful variety of vegetables (representing good fortune), sauces and spices. It's fresh, crunchy, tasty and not to mention, fun. Yusheng is usually served in a big bowl in the middle of the table with ingredients neatly arranged in a pile. Everyone would toss the salad together with chopsticks while making loud and auspicious pronouncements, making a beautiful glorious mess before sitting down and enjoying the salad together. The higher you toss, the more well wishes you'd get!
Try this yusheng recipe by The Devil Wears Salad
No matter where you are in the world, the Lunar New Year is a time for coming together with loved ones and celebrating with delicious, traditional foods. Happy Lunar New Year!